Adhesion is the attraction between two dissimilar phases. There is no single theory to explain adhesion, but it is commonly divided into physical and chemical bonding and mechanical interlocking. Most typically adhesion occurs because of the combination of these different mechanisms.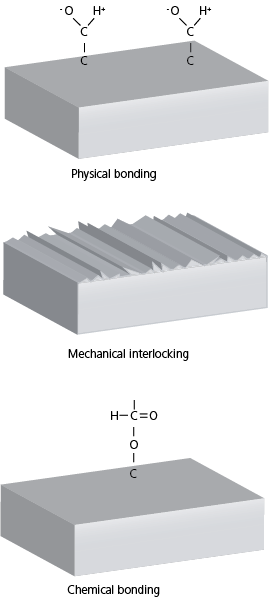 Physical bonding refers to Van der Waals interactions between the materials. Van der Waals forces are very weak compared to those responsible for chemical bonding. The effective distance of Van der Waals forces is very short which means that the two materials have to make intimate contact for binding to occur.
Chemical bonding includes covalent, ionic, and metallic bonds. Chemical bonds are much stronger than physical bonds. Chemical bonds are typically responsible for cohesive forces inside the material. For example, most of the polymers have covalent bonds, and metallic bonds are responsible for the high thermal and electrical conductivity of metals. Chemical bonding between two dissimilar materials is not so common, although some of the pre-treatment methods such as plasma treatment can be used to increase the available chemical binding sites.
Mechanical interlocking happens when one material penetrates another. This requires some type of roughness of the substrate. One common example of this kind of adhesion is gluing. Adhesive, i.e. the glue, will flow to the cavities of the surface and fix the two pieces mechanically together. For the adhesive to properly work, it will need to have a suitable viscosity and surface tension to wet the substrate. The surface on the other hand has to have a suitable surface free energy to allow the adhesive to spread.
Adhesion failure mechanisms
To understand why bonding fails, we need to first define the ways the failure can occur. These can be divided into three categories:
Adhesive failure

Cohesive failure

Substrate failure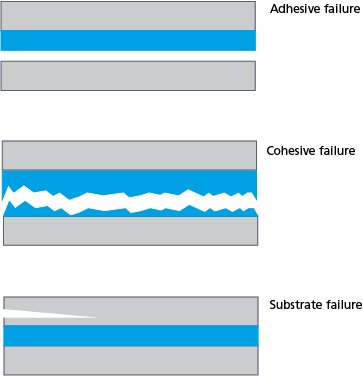 Adhesive failure, or delamination, is one of the most common types of failure mechanisms. There the two dissimilar materials detach from each other. The failure can happen between a paint and a substrate or between the adhesive and either of the two substrates it is bonding together. Cohesive failure happens in the adhesive itself or inside the layer of a coating. Substrate failure is not related to the bonding process itself as it is a problem in the substrate.