Surface free energy (SFE) can be considered as the surface tension of a solid. The most typical unit for SFE is mN/m, or its equivalent, dynes /cm. Surface free energy of the material arises from molecular interactions at the solid surface.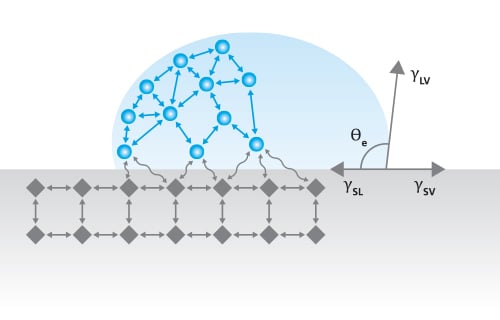 The atoms at the surface don't have the same number of neighboring atoms on their side which causes an excess force at the solid surface. The strength of this force is dependent on the strength of the forces between the atoms in the solid. For example, in metals, the atoms are linked together with extremely strong metal bonds. The surface free energy of the metals is thus typically very high. Then, on the other hand, bonds in polymeric materials are typically weak which makes the SFE of polymers low.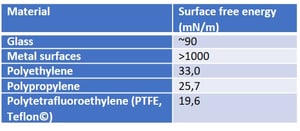 Surface free energy determines how the solid behaves in contact with other materials. From a thermodynamic point of view, the high surface free energy materials are not stable and there is a need to minimize it. Many metals such as aluminum, will immediately when in contact with air (or another oxygen-containing atmosphere) grow the natural thin oxide layer on top to minimize the surface free energy.