Application Examples
The interaction of an antiparasitic peptide with cell membrane models
In drug discovery the permeation of the drug into cells through cell walls and the reaction of the drug within the cell membrane are important factors for drug efficiency. In this example, a drug candidate for the Human African Sleeping Sickness (HAT) was studied in vitro in a model cell membrane.
The oligopeptide-based drug S-(2,4-dinitrophenyl) glutathione di-2-propyl ester, has shown activity in the treatment of HAT and was studied in Langmuir monolayer model membrane of DPPC (dipalmitoyl phosphorylcholine), an abundant lipid in the protozoan membrane. The monolayer properties of the drug itself and its interactions with DPPC monolayers were studied with Langmuir equipment with a surface potential meter and polarization modulation surface infrared reflection absorption spectrometer.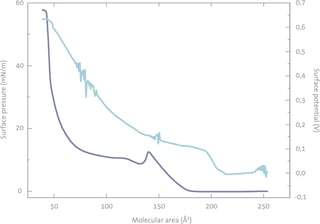 Surface pressure-area and surface potential-area isotherms of a HAT-drug monolayer at air-buffer interface.
For more information see Resources tab.
Application Note — Interactions of Biomolecules in Cell Membrane Models