When surface-active agents are present in a solution, they tend to adsorb in the gas-liquid or liquid-liquid interface. Surface active agents have a hydrophobic and a hydrophilic part, so that when at the interface they orient so that the hydrophilic part is in a water-based solution and the hydrophobic part in the air or oil phase. Surface active agents can be surfactant molecules, polymers, proteins, or even particles. Interfacial rheology studies the response of the adsorbed interfacial layer to the deformation caused by external stimuli. The response depends on the layer composition and determines the stability of the interface. Interface stability is crucial for many industries where foams, emulsions, and dispersions are used such as pharmaceuticals, food and beverages, cosmetics, coatings, and the oil industry.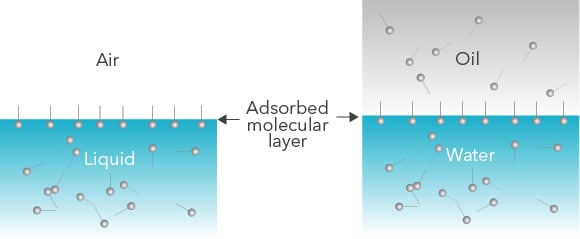 The deformation of the interfacial layer can be caused either by changing the shape (shear) or the area (dilatational) of the interphase.

One fundamental difference between dilatational and shear interfacial rheology is that dilatational rheology is also sensitive to the kinetics of adsorption and desorption of the surface-active layer. As with interfacial shear rheology, there is no area change, in principle, there is thus also no change in film composition during deformation. In dilatational interfacial rheology, the surface area changes which in turn causes adsorption processes to take place during deformation.