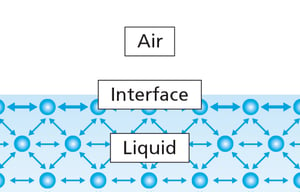 Surface tension arises from cohesive forces between the liquid molecules. In the bulk, molecules are interacting equally with each other in all directions. However, at the surface, molecules don't have the same neighbors on all sides. Thus, a net inward force pulls the molecules toward the bulk. This gives rise to a property called surface tension. How high the surface tension is, is dependent on the type of molecular interactions present. For example, the surface tension of water is high, as the water molecules interact with each other through hydrogen bonds which are relatively strong.
There are several different units for surface and interfacial tension; typically mN/m (which is equivalent to dynes/cm) is used.
Surface tension measurements are widely used in many industrial areas as it has a direct effect on the spreading of the coating formulation and it's used to characterize surfactant solutions among others.