Interfacial tension is the force between two dissimilar phases that can be gas-liquid, gas-solid, liquid-liquid, or liquid-solid interface. In the case of the gas-liquid interface and the gas-solid interface, terms of surface tension and surface free energy are used, respectively.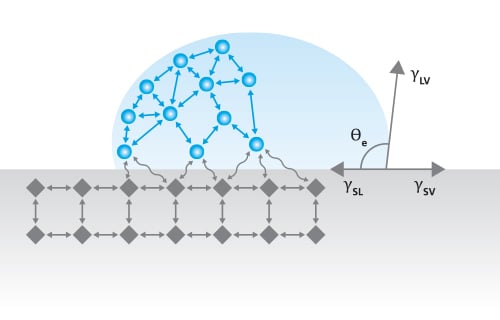 Regardless of the phase pair in question the mechanism that causes the force is the same. In the bulk of the material (whether liquid or solid), the molecules have the same kind of molecules as their neighbors and are thus pulled equally in all directions resulting in a net force of zero.
At the interface, the situation is different. There, the molecules will see similar molecules on their sides and below and interact with them through cohesive forces. In air-liquid and especially in air-solid systems these cohesive forces can be really strong which causes high surface tension and surface free energy values, respectively. However, when two immiscible liquids or liquid and solid are in contact, the adhesive forces between the dissimilar molecules also play a significant role and balance out the forces at the interface. The common units for interfacial tension (IFT) are dynes/cm or mN/m. These units are equivalent.
Interfacial tension measurements between two immiscible liquids are used in several industrial areas. Liquid-solid interfacial tension, on the other hand, cannot be directly measured and is not further discussed here.